D20 Rebirth
From Fax Encyclopedicus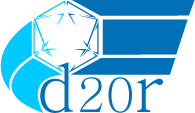 D20 Rebirth is a large scale project, led by Fax Celestis, to basically revise the standard OGL content into something refreshing and new, re-balancing everything, often from the ground up, and trying to create a new, fun take on the world's most popular role-playing game.
For more information on what's changed, go to d20r:Speed Differences. For stuff that has been made for d20r unofficially, check d20r:Extensions. For bad jokes and humor... Well, there's a few spread in the extensions.
Theoretically, any content compatible with that system should be usable in d20r. In practice, GM caution and homebrewing specific conversions is always advised.
Most d20r pages here are cross-linked to threads on the Giant In The Playground forums; content in a thread there may be more up-to-date than the Wiki version.
[Here's an old "grand" thread of the whole thing.]
Races
Racial Progressions
Racial Progressions are a type of prestige class, representing unusual aspects in a character's bloodline.
Classes
Prestige Classes
Skills
Basics at: [This thread]
Skills - [Old Thread]
Feats
All Feat pages below this line are depreciated.
Description
Equipment
Aspect Items - [Thread]
Combat
Magic
Spells
Psionics
Powers
Monsters
A
B
C
D
E
F
G
H
I
J
K
L
M
N
O
P
Q
R
S
T
U
V
W
X
Y
Z
Templates
Gods
| God | Portfolio | Domains |
| --- | --- | --- |
| Agni | God of Fire | Fire, Glory, Might, Sun, Wealth |
| Alejia | Goddess of Passion and Fury | Courage, Glory, Life, Madness, Weather |
| Anandja | Goddess of Bliss and Happiness | Healing, Luck, Star, Travel, Water |
| Eris | Goddess of Discord | Fear, Hex, Luck, Madness, Trickery |
| Gaelen | God of Technology | Creation, Knowledge, Protection, War, Wealth |
| Hasan | God of Wisdom | Animal, Earth, Knowledge, Travel, Wealth |
| Horjin | Tiger-God of the Hunt | Animal, Courage, Glory, Might, Trickery |
| Los | God of Justice | Cold, Courage, Fate, Healing, Protection |
| Malarbor | Tree-God of Nature's Wrath | Air, Earth, Fire, Plant, Water |
| Lumina | Goddess of Light | Air, Darkness, Moon, Star, Sun |
| Meskan | God of Magic | Creation, Knowledge, Magic, Star, Undeath |
| M'oll | God of Weather and Agriculture | Air, Plant, Sun, Time, Weather |
| Nelig | Wolf-Goddess of Beasts | Animal, Fear, Healing, Moon, Storm |
| Raghnialt | Fae Goddess of Winter | Cold, Hex, Storm, Trickery, Weather |
| Sakat | God of Time | Death, Fate, Life, Madness, Time |
| Semisa | Goddess of Life and Reincarnation | Death, Fate, Healing, Life, Protection |